ANZAAS Science Talk, by Zoom
Wednesday 16th November 2022, 6:30 pm AEDT
All welcome, free, tell your friends!
Associate Professor Paul Lasky
School of Physics and Astronomy, Monash University
"A new window on the Universe"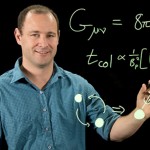 More than a billion years ago, two black holes collided. Each was about thirty times more massive than our Sun, and the merger sent out ripples of gravity that travelled across the Universe at the speed of light. In 2015, these ripples of gravity, known as gravitational waves, were detected by the most precise physics experiment ever built. This Nobel prize winning discovery has opened a new window on the Universe, enabling us to study gravity and matter in the most extreme regions of the Universe. I will tell the story of the exciting discovery, as well as the 100 merging black hole and neutron star systems we've observed since.
A/Prof Lasky is an ARC Future Fellow and winner of the 2018 Australian Academy of Science's Pawsey Medal. He is a gravitational astrophysicist with broad interests and expertise across theory, data, and observations, and is an active contributor to the LIGO Scientific Collaboration that, in 2015, made the first discovery of gravitational waves. His group has designed and built the software that LIGO uses to determine the astrophysical properties of detected gravitational-wave events. A/Prof Lasky is a key player in the Australian plans to develop a dedicated kilohertz gravitational -wave detector targeting extreme matter.
——————–
We are pleased to acknowledge the support by CSL for the ANZAAS Melbourne science talks series
Further Info: David Vaux   davidlaurencevaux@gmail.com
http://www.anzaas.org.au/victoria/
___________
Paul Lasky November 2022
A new window on the Universe
Peter Currie October 2022
Regeneration: Myths and monsters and modern medicine
Heather Mack September 2022
Injecting eyes with antibodies to treat problems of the retina
Helen Green August 2022
Dating Australia's rock art
Mahdi Jalali July 2022
Transport electrification and integration of EVs within the electricity grid
Grant McArthur June 2022
Science led inroads into melanoma – Australia and New Zealand's disease
Alan Duffy May 2022
Darkness visible down-under
Timothy Clark April 2022
The importance of reproducibility and integrity in science: a fishy perspective
Tilman Ruff March 2022
Ending the nuclear weapons era evidence, challenges and pathways
Brian Abbey November 2021
The colour of cancer: could 'smart' microscope slides transform tissue diagnostics?
Cameron Simmons October 2021
Creating stop signs in mosquitoes; is this the end-game for Dengue?
Madhu Bhaskaran September 2021
Unbreakable sensors the future is here
Anne Marie Tosolini August 2021
Fossil Leaves from Cretaceous and Paleogene Polar Environments
Geoff Brooks July 2021
Green Steel: Can we decarburise steel production?
————–