ANZAAS Victorian Division – Science Talk, by Zoom
All welcome, tell  your friends!
Wednesday 17th November 2021, 6:30 pm AEDT

—————
Professor Brian Abbey

Director of Research, School of Molecular Sciences, La Trobe University
"The colour of cancer: could 'smart' microscope slides transform tissue diagnostics?"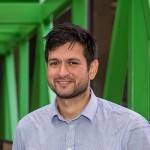 Breast cancer is a disease that will affect around 1 in 8 women during the course of their lifetime; a critical to achieving a positive outcome is detecting the cancer early when treatment may be more effective. However, detecting and diagnosing small numbers of abnormal cells can be incredibly challenging. In order to make the process of identifying cancer cells easier a team of researchers working with Prof Abbey have spent the past 6 years developing a radically new alternative to cancer detection. In this talk Prof Abbey will describe how the team behind the NanoMslide have used cutting-edge nanotechnology to transform the humble microscope slide into a powerful new cancer diagnostic tool. Having recently completed the first proof-of-concept study in patients the team now working towards larger scale trials as well as testing their technology with a range of other cancer types.
Prof Brian Abbey is a group leader and research director of the La Trobe Institute for Molecular science (LIMS). Trained as a physicist, he has embedded a highly interdisciplinary approach in his research group in order to deliver new technologies of benefit to health and wellbeing..
—————
See past talks on Youtube        https://www.youtube.com/channel/UCcf00i6TRfF7JUBzTBSEDUA
—————
We are pleased to acknowledge the support by CSL for the ANZAAS Melbourne science talks series

Further Info:         David Vaux     davidlaurencevaux@gmail.com
https://www.anzaas.org.au/victoria/