ANZAAS Science Talk, Melbourne

Thursday

14th September 2023, 6:30 pm
All welcome, free, tell your friends!
At GTAC, in the grounds of University High School, corner Royal Parade and Story Street, Parkville (enter off Story Street or Royal Parade)
Free pizza and drinks after the talk
Professor David Komander FAA
Ubiquitin Signaling Division, The Walter and Eliza Hall Institute

"Playing Tag with Ubiquitin"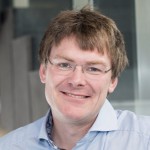 Proteins are the machines within our cells, and provide cells with structure, communication, and energy. As for all our household machines, proteins can become damaged or be surplus to requirement, in which case they are broken down and recycled. In our cells, damaged proteins are tagged with another protein called 'ubiquitin', and the 'ubiquitinated' protein is quickly destroyed. The process of tagging proteins with ubiquitin, however, is vastly more complex. Research over the last two decades has shown that many different ubiquitin tags exist. It is also becoming clear that ubiquitin, and its power to remove proteins from cells, is important in many diseases, but can also be harnessed to prevent disease.
At WEHI, his division studies how cells utilise ubiquitin as a signal, and how defects in ubiquitin signals cause diseases such as cancer or Parkinson's disease.
Professor Komander is a biochemist and cell biologist who trained in Germany and the UK. He established his first lab in Cambridge, where he worked until moving to WEHI in 2018. His is a world leader in the field of ubiquitylation, and has generated new tools to unveil the complexity and specificity of the ubiquitin code. He determined the molecular basis for PINK1/Parkin-mediated mitophagy, a key ubiquitylation pathway derailed in inherited Parkinson's disease. His ultimate aim is the development of the first disease-modifying therapies for Parkinson's and other ubiquitin-based disorders.
—————
Next Talk: Wednesday 18th October     Dr Beth Ebert Senior Principal Research Scientist and Team Leader, Forecast Quality Research, Bureau of Meteorology Forecasting Thunderstorm Asthma

——————–
We are pleased to acknowledge the support by CSL and GTAC for the ANZAAS Melbourne science talks series
Further Info: David Vaux   davidlaurencevaux@gmail.com
http://www.anzaas.org.au/victoria/
___________
David Komander September 2023
Playing Tag with Ubiquitin
David Vaux August 2023
A short history of cancer genes
Chris Greening May 2023
The atmosphere as a hidden energy source for life
Jim Goding March 2023
Transistors, the Microchip & the Second Industrial Revolution
Paul Lasky November 2022
A new window on the Universe
Peter Currie October 2022
Regeneration: Myths and monsters and modern medicine
Heather Mack September 2022
Injecting eyes with antibodies to treat problems of the retina
Helen Green August 2022
Dating Australia's rock art
Mahdi Jalali July 2022
Transport electrification and integration of EVs within the electricity grid
Grant McArthur June 2022
Science led inroads into melanoma – Australia and New Zealand's disease
Alan Duffy May 2022
Darkness visible down-under
Timothy Clark April 2022
The importance of reproducibility and integrity in science: a fishy perspective
Tilman Ruff March 2022
Ending the nuclear weapons era evidence, challenges and pathways
Brian Abbey November 2021
The colour of cancer: could 'smart' microscope slides transform tissue diagnostics?
Cameron Simmons October 2021
Creating stop signs in mosquitoes; is this the end-game for Dengue?
Madhu Bhaskaran September 2021
Unbreakable sensors the future is here
Anne Marie Tosolini August 2021
Fossil Leaves from Cretaceous and Paleogene Polar Environments
Geoff Brooks July 2021
Green Steel: Can we decarburise steel production?
————–