Next ANZAAS Science Talk, by Zoom
Wednesday 18th May 2022, 6:30 pm AEST

All welcome, free, tell your friends!
Prof  Alan Duffy
Swinburne University
"Darkness Visible Down Under"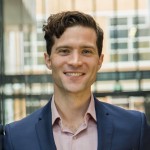 Decades of research have led astronomers to a staggering conclusion, that there exists a new, invisible type of mass that outweighs everything we can see five times over. Professor Duffy will explain how we know SO much about the properties of a particle we have yet to discover, and how Australia is playing a leading role in uncovering the nature of this mysterious dark matter with SABRE, the world's first dark matter detector at Victoria's Stawell gold mine.
Astronomer Professor Duffy simulates model universes on supercomputers to understand how galaxies like our Milky Way form within vast clouds of dark matter. He is trying to find this dark matter as the Swinburne Node Leader in the new national ARC Centre of Excellence for Dark Matter Particle Physics and a Chief Investigator of SABRE, the world's first dark matter detector in the Southern Hemisphere, to be deployed at the Stawell Underground Physics Laboratory. When not simulating universes he tries to explain the science of this one to the general public in regular segments on ABC and Ten's The Project as the Lead Scientist of the Royal Institution of Australia. Most recently has been appointed the inaugural Director of the Space Technology and Industry Institute at Swinburne, finding ways to use space to help companies and communities here on Earth.
——————–
Next talk: 6:30 Wednesday 15th June 2022  Prof Grant McArthur  Executive Director of the Victorian Comprehensive Cancer Centre "Science led inroads into melanoma – Australia and New Zealand's disease"
————–
We are pleased to acknowledge the support by CSL for the ANZAAS Melbourne science talks series
Further Info: David Vaux   davidlaurencevaux@gmail.com
http://www.anzaas.org.au/victoria/
————-
Timothy Clark April 2022
The importance of reproducibility and integrity in science: a fishy perspective
Tilman Ruff March 2022
Ending the nuclear weapons era evidence, challenges and pathways
Brian Abbey November 2021
The colour of cancer: could 'smart' microscope slides transform tissue diagnostics?
Cameron Simmons October 2021
Creating stop signs in mosquitoes; is this the end-game for Dengue?
Madhu Bhaskaran September 2021
Unbreakable sensors the future is here
Anne Marie Tosolini August 2021
Fossil Leaves from Cretaceous and Paleogene Polar Environments
Geoff Brooks July 2021
Green Steel: Can we decarburise steel production?
————–