Next ANZAAS Science Talk, by Zoom
Wednesday 17th August 2022, 6:30 pm AEST
All welcome, free, tell your friends!

Dr Helen Green
School of Geography, Earth and Atmospheric Sciences, University of Melbourne

"Dating Australia's Rock Art"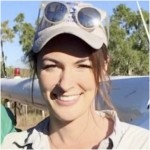 Australia hosts the oldest ongoing culture in the world with aboriginal rock art providing an important window into what Australia's first people were doing and the things that were important to them when it was created. However, to understand how these remarkable artworks might relate to things like changes in the climate and environment, we must know how old it is. This talk will discuss the different scientific techniques being used to date Australia's oldest rock art and the importance of integrating traditional knowledges and western science.
Dr Green conducts research as part of the Kimberley Rock Art Dating Project. Her research has focused on analysing mineral accretions using a range of geochemical techniques to characterise and understand the formation processes occurring in relation to rock art pigments. She uses techniques include uranium-thorium dating, radiocarbon dating, stable isotope analysis along with analytical techniques such as X-ray diffraction analysis, scanning electron microscopy, and electron microprobe analysis.
——————–
Next talk: 6:30 Wednesday 21st September 2022  A/Prof Heather Mack AM  "Injecting eyes with antibodies to treat problems of the retina."
——————–
We are pleased to acknowledge the support by CSL for the ANZAAS Melbourne science talks series
Further Info: David Vaux   davidlaurencevaux@gmail.com
http://www.anzaas.org.au/victoria/
___________
Mahdi Jalali July 2022
Transport electrification and integration of EVs within the electricity grid
Grant McArthur June 2022
Science led inroads into melanoma – Australia and New Zealand's disease
Alan Duffy May 2022
Darkness visible down-under
Timothy Clark April 2022
The importance of reproducibility and integrity in science: a fishy perspective
Tilman Ruff March 2022
Ending the nuclear weapons era evidence, challenges and pathways
Brian Abbey November 2021
The colour of cancer: could 'smart' microscope slides transform tissue diagnostics?
Cameron Simmons October 2021
Creating stop signs in mosquitoes; is this the end-game for Dengue?
Madhu Bhaskaran September 2021
Unbreakable sensors the future is here
Anne Marie Tosolini August 2021
Fossil Leaves from Cretaceous and Paleogene Polar Environments
Geoff Brooks July 2021
Green Steel: Can we decarburise steel production?
————–