ANZAAS Victorian Division – Science Talk, by Zoom
All welcome, tell  your friends!
Wednesday 15th September 2021, 6:30 pm

 ————————-
Prof Madhu Bhaskaran

Functional Materials and Microsystems Research Group, RMIT University

"Unbreakable sensors – the future is here"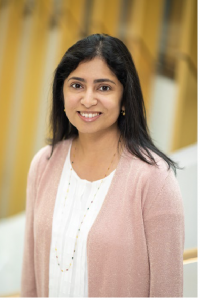 Imagine a 'wearable' product consisting of sensors which you place on your skin – this band-aid like patch could measure your body parameters offering you a window to your health – what is your skin temperature, are the biomarkers in your body indicating early onset of any preventative disease?
Imagine a 'nearable' product consisting of sensors embedded into a mattress cover that could be deployed to residential aged care facilities. This non-invasive 'nearable' tracks a person's presence, position, and posture in bed overnight and relays this to a dashboard SO a user who is providing care has the ability to prioritise quality care to residents where needed.
These nearable and wearable sensors are conformal, un-feelable and unbreakable. This is a glimpse a to the future – but not as science fiction as you might imagine. This future is here now. I will present the research which has led to these technologies, the challenges overcome, and collaborative efforts with industry and design partners which would enable us to realize this future.
Professor Madhu Bhaskaran was awarded the 2020 Frederick White Medal by the Australian Academy of Science, the 2018 APEC Science Prize for Innovation, Research and Education ("ASPIRE"), the 2018 Batterham Medal by ATSE, and the 2017 Australian Museum Macquarie University Eureka Prize for Outstanding Early Career Researcher. She is a migrant Australian and a passionate advocate for diversity, and is on the Board of Directors for Women in STEMM Australia and on the Advisory board for STEM Sisters.
 ————————-
Next talk:     Wednesday 20th  October 6:30pm  TBA
—————
                                    We are pleased to acknowledge the support by CSL for the ANZAAS Melbourne science talks series

Further Info:         David Vaux     davidlaurencevaux@gmail.com
https://www.anzaas.org.au/victoria/