ANZAAS Victorian Division  -   Science Talk, MELBOURNE
All welcome, free, and bring your friends!
 At GTAC, in the grounds of University High School, corner Royal Parade and Story Street, Parkville (enter off Story Street or Royal Parade)
Wednesday 21st September 2016, 6:30 pm

Dr Marissa Parrott  
Reproductive Biologist
Wildlife Conservation & Science, Zoos Victoria
" Zoos Victoria: Fighting Extinction"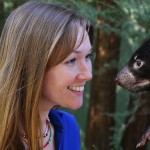 Zoos Victoria is committed to fighting extinction. We work locally and globally to deliver tangible conservation outcomes. Our goal is to be a world leading zoo-based conservation organisation, the Australian authority on captive holding and management of native threatened species, and a major facilitator of wildlife knowledge for conservation action. Zoos Victoria has a commitment to ensure that no Victorian terrestrial vertebrate species goes extinct. Here, I will describe how Zoos Victoria are fighting extinction for 21 species on the brink of extinction and how research into mate choice, maintaining natural behaviours and predator avoidance training is used to increase conservation outcomes for our endangered species programs including the Mountain Pygmy-possum, Eastern Barred Bandicoot, Helmeted Honeyeater and Tasmanian Devil.
Dr Parrott completed her PhD at the University of Melbourne in 2006, and now has what she describes as her "dream job" with Zoos Victoria.
You can find out more about her here: https://www.youtube.com/watch?v=LgIFWraeEtE
 ————-
Forthcoming Talks:
Wed 19th October       Prof Doug MacFarlane, Monash Uni, Energy Solutions for the Sustainocene
We are pleased to acknowledge the support by CSL and GTAC for the ANZAAS Melbourne science talks series

Further Info:         David Vaux       9345 2941                davidlaurencevaux@gmail.com
http://www.anzaas.org.au/victoria/