ANZAAS Victorian Division  -   Science Talk, MELBOURNE
All welcome, no booking necessary, bring your friends!
Free pizza and drinks after the talk
 At GTAC, in the grounds of University High School, corner Royal Parade and Story Street, Parkville (enter off Story Street or Royal Parade)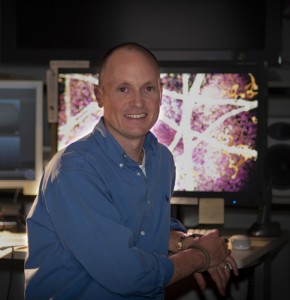 Wednesday 15th June 2016, 6:30 pm

Drew Berry

Animator, The Walter and Eliza Hall Institute
" The molecular machines that create your flesh and blood "
If it were technically possible to magnify objects 100 million times, we could directly watch the writhing, dynamic molecular world of DNA. However, even with the most advanced imaging technology, the biggest molecules are resolved as static blurry blobs, with scientists relying on other techniques to determine how they interact and accomplish their roles in creating life. Drawing upon fragmentary evidence from all fields of biomedical research, Drew Berry sets out to build accurate, insightful visualisations of cellular and molecular worlds. Each animation is founded upon the latest data from research labs, such as X-ray crystallography, to reveal the extraordinary discoveries being made at the frontier of biology.
Drew Berry is a biomedical animator at The Walter and Eliza Hall Institute. His scientifically accurate and aesthetically rich visualizations are elucidating cellular and molecular processes for a wide range of audiences. His animations have been shown in exhibitions, multimedia programs and television shows, and have received international recognition including an Emmy (2005) and a BAFTA Award (2004).
 ————-
Forthcoming Talks:
Wed  20th July            Prof Lloyd Hollenberg, Melbourne University, Quantum computation
Wed 17th August         Prof John Bowman, Monash University, Sex and plants
We are pleased to acknowledge the support by CSL and GTAC for the ANZAAS Melbourne science talks series

Further Info:         David Vaux       9345 2941                davidlaurencevaux@gmail.com
http://www.anzaas.org.au/victoria/