ANZAAS Victorian Division  -   Science Talk, MELBOURNE
All welcome, free, but please book, and bring your friends!
Free pizza and drinks after the talk
 At GTAC, in the grounds of University High School, corner Royal Parade and Story Street, Parkville (enter off Story Street or Royal Parade)
Wednesday 20th July 2016, 6:30 pm

Professor  John Bowman
School of Biological Sciences, Monash University
"Plants, sex and reproduction – Evolution in the cycles of life"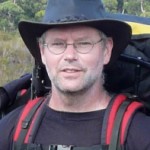 All eukaryotes, organisms in which the DNA is present is a special compartment called the nucleus, have a life cycle that alternates between a haploid stage (one set of chromosomes) and a diploid stage (two sets of chromosomes). The transitions between the two stages are fertilization (when two haploid cells fuse, e.g. eggs and sperm) and meiosis, when haploid cells are produced via a specialized cell division process called meiosis.  We often consider our life cycle, with a complex multicellular diploid (our body) body and an ephemeral haploid stage (egg or sperm), but this is not the only type of life cycle to have evolved. I will discuss the evolution of life cycles in plants, and place these in a broader perspective of life cycles in all eukaryotic organisms.
Professor John Bowman obtained his PhD on the genetics of flower development in Arabidopsis. He was post-doctoral researcher at Monash University, before joining the UC Davis as Asst. Professor. In 2006 he joined Monash University as a Federation Fellow. John's research is focused on the evolution and development of land plants. His lab uses the flowering plant Arabidopsis thaliana and others as model genetic systems to address fundamental questions in plant evolution and development.
 ————-
 ***Note, after the talk, the 2017 ANZAAS Medal will be presented, as part of National Science Week***
Forthcoming Talks:
Wed 21st Sept              Dr Marissa Parrot, Zoos Victoria, Conservation of endangered species
Wed 19th October       Prof Doug MacFarlane, Monash Uni, Energy Solutions for the Sustainocene
We are pleased to acknowledge the support by CSL and GTAC for the ANZAAS Melbourne science talks series

Further Info:         David Vaux       9345 2941                davidlaurencevaux@gmail.com
http://www.anzaas.org.au/victoria/